Click below to buy this lamp now:



Lowest Prices Anywhere!
NORMAL DISCLAIMER:
— Do NOT purchase generic brand lamps such as LTI, APO or third-party manufacturers such as OSRAM. These lamps were NOT engineered with and for your TV…only your Philips lamp has been engineered to work flawlessly and output the best possible color. Above that, it just doesn't make sense to choose an aftermarket lamp for a $5-$10 difference (and in many cases they are more expensive!!). Be a smart consumer and do your research! Discount-Merchant.com promises to be the low price leader in all Projection TV Lamps they carry…if this is not true, let us know and we'll fix it!
Replacing your JVC D-ILA Lamp is very simple. Only tools required:
Flathead screwdriver (remove your lamp enclosure)
Torx T-6 or comparable driver
That's it!
(Click on pics for high resolution photos)
Once you have the enclosure out, it should look similar to this: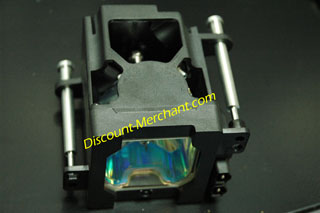 Ok, first step is to unscrew these two screws circled in yellow: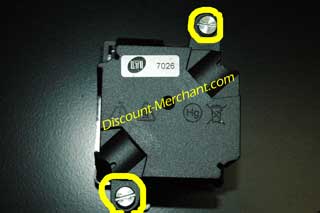 Once those two are out of the way, unscrew the four small torx (two on either side). Then you're left with: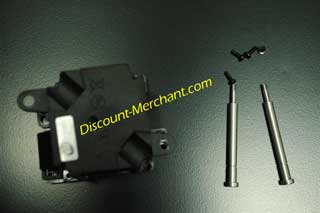 Here are acouple more pictures:
Now that you have all the screws off, simply separate the two plastic pieces and pull out the old lamp
Now it's just a matter of replacing the old lamp for the new…reassemble in reverse order and enjoy!
IMPORTANT: The bulb should be handled with a clean cloth to avoid any dirt or oil. Our hands are naturally oily…this is a no-no for these lamps. It doesn't hurt to do a final wipe with a clean, non-abrasive, lint-free cloth before reinstalling your lamp.
If you've paid close attention to the pictures, you can see that this guide was created using a LTI (generic) lamp and enclosure. No worries, are lamps are all original. How can you tell me you've got an original lamp?
Here are a few more pics for reference: